When you buy online we know you need to be reasured that the product will be delivered to you in perfect condition and that it looks the same as on this website. You also want the know that we will treat you and every customer with the greatest respect.
​Please read below for feedback given by previous customers. We also hope that you might want to add comments following your purchase.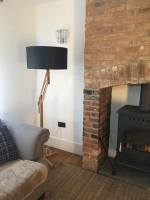 Ben from Marvelous Furniture gave me your card when he delivered our elegant Mark Lowe standard lamp. Just want to let you know that it is just what our dark back room needed. It's actually the best room in the house as it opens onto the garden. It's got three pieces of oak furniture from Ben's shop and I didn't want one of those horrible department store lamps or anything too old fashioned. So your lamp was what I had been looking for for ages. Like the novel touch with the coloured flex too. Hope all goes well with your business,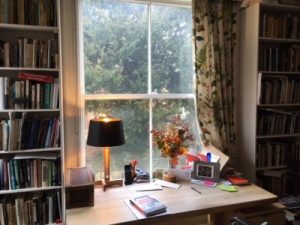 Really enjoyed meeting you both last Friday and the lamp is a great success! Thank you!!
I just wanted to tell you how very pleased I am with my light. It's a beautiful design and so well made, and I think it fits perfectly in the space I planned for it. I need to sort the flex properly but here it is on its first night in its new home. Thank you very much.
I saw the one in Jane's and thought it was lovely and Jackie did the same at my house! - although I think I should have gone for a bigger shade, but that's easily rectified.
I saw a picture on Instagram and really liked it. I went to the website and ordered a standard lamp in oak with a red flex. It really fits into my room. Very happy with it. Because I registered on the website I got 10% off at the time. (they seem to do deals that way).
Mark Lowe's craftsmanship shines through in the beautifully made lamp I've purchased from him. The smoothness of the wood, the pleasing key adjustment on the frame and the firmness and old fashioned feel of the on / off switch on the light fitting  make it a great buy.
I've put a large silk shade in sunflower on mine and it's become a gorgeous feature in my living room.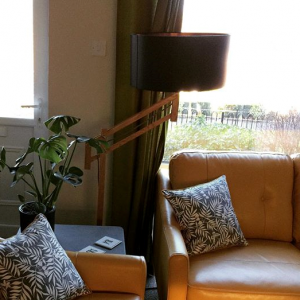 New piped cushions to match the new sofas and finally found a permanent home for our beautiful lamp. Thank you Mark - we love it.
Just to say I couldn't be more pleased with the Standard Lamp. As before it is fabulous quality and beautifully made and I think it suits the room perfectly, hope you agree. I'm already thinking about where an adjustable lamp might fit.....! Best wishes!
Alison
Isle of Mull, Scotland
Review from the Isle of Mull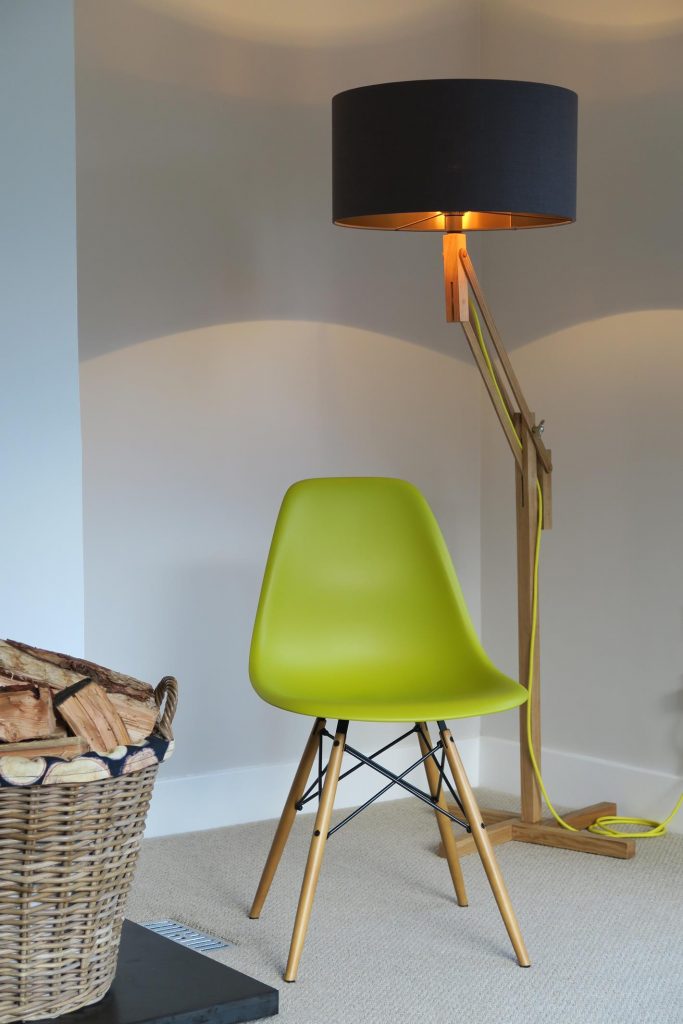 Dear Mark and Marianne,
We are pleased to tell you that our lamp arrived safe and sound on the Isle of Mull this morning and it is beautiful. Parcelforce has been a great option for us and to be within 48 hours at this time of year is a miracle. 
We found the website through Etsy initially, then following on Instagram. The workmanship looked perfect for our aesthetic but since we had not seen any of Mark's work it was a leap of faith to place an online order. We didn't have a moment's worry after placing the order, communication was excellent, timescales and expectations managed. Excellent, professional customer service for a small company. Their choice of courier for us meant that our item arrived within 48 hours in perfect condition. This is no mean feat considering we live in the Hebrides, Scotland. Lastly, our lamp is beautiful and we are very happy to have it in our home.