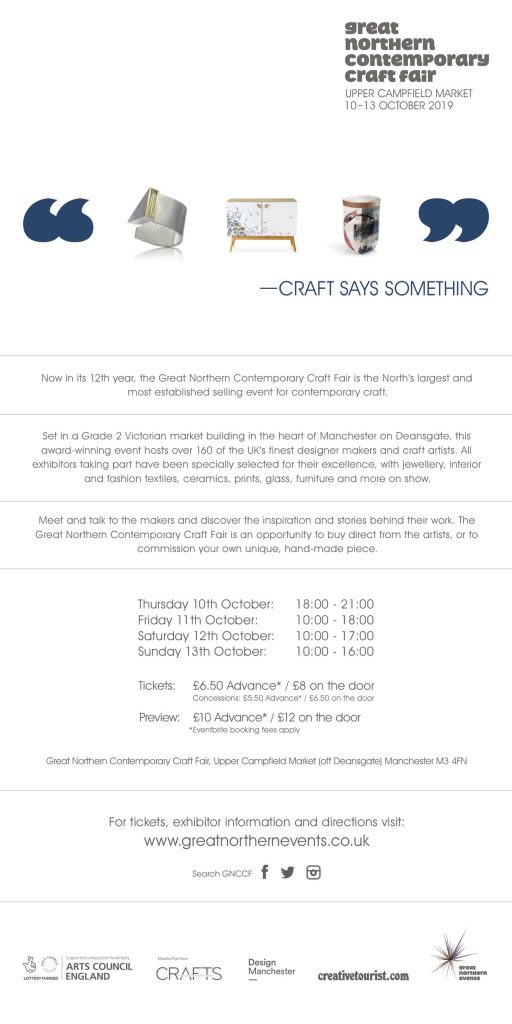 We are really looking forward to being part of the Great Northern Contemporary Craft Fair in Manchester this October. The show is organised by Great Northern Events. They host a number of shows throughout the year including in Sheffield and Newcastle.
After the success of and being part of the Handmade in Oxford show (see previous blog). We wanted to grow the success of this newer venture in our business. While continuing to work with interior designers, direct selling and through outlets. We know it is so important to connect with our customers, finding out what they love about our products and what more we can do for them (for you).
So, please come along and say hello and, of course, enjoying and viewing all the other amazing makers and products on show throughout the weekend.
GNCCF Manchester http://www.greatnorthernevents.co.uk/homepage-gnccf.aspx
Venue: Upper Campfield Market Hall, Campfield Arcade, 300 Deansgate, Manchester, M3 4FN (entrance via Arcade between Instituto Cervantes and Dimitris Restaurant).
Opening Times
Thursday 10th October* 18.00-21.00 Friday 11th October 10.00-18.00 Saturday 12th October 10.00-17.00 Sunday 13th October 10.00-16.00
See you soon and all the best Mark